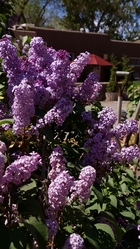 Welcome to InnontheRio.com!
Jules, Robert and Stormy wish you a Happy Spring. Spring; a time for renewal. Refresh the mind, body and soul in beautiful Taos, New Mexico. Mother Nature was very busy this past season sending us lots of white fluffy snow which means a runoff and the little Rio Fernando, behind our Inn, is making that wonderful, soothing, babbling brook sound.
Plan your salubrious "Spring Fling Getaway" at Inn on the Rio and with your Innkeepers as your personal concierge. We have a couple of fabulous offerings for those who want to plan a little escape for yourself, friends or a loved one to rejuvenate. First special, Lodge with Us and We'll Buy You Dinner! or a second special, Extend Your Stay, Without Opening Your Wallet. Stay three consecutive nights and your fourth night is FREE! These two great offerings are only available for all of April and the first part of May. For promotional details visit Rates, on the directory line, and click Spring or click
Spring Rates and Offers
.
Taos has some great events coming over the next few weeks, take a look at the calendar below. As always, Taos has great weather, blue sky and those wonderful Spring flowers. And with a chill in the night air relaxing in our spectacular sunken outdoor hot tub under a starry Spring sky; your troubles will evaporate away. All the more reasons to enjoy Northern New Mexico at our Inn in Taos.
After a gourmet breakfast, in the 250 year old grande room, let Jules & Robert help you create your special Taos Day. Come stay with us and make the most of your Taos Getaway at Inn on the Rio,
Where Friends Send Friends
. To reserve your getaway today click
check availability
to reveal information about our rooms, great rates and packages.

June 06 - Taos Solar Music Festival
June 07-09 - Chile Challenge Mountain Bike Festival
June 22-23 - Annual Rodeo de Taos
June 29 - Toast of Taos Arts & Wine Festival
June 29-30 - Rough Riders 200
July 04 - Fourth Festivities
July 04 - 4th of July Celebration
July 04 - Arroyo Seco Parade
July 13-14 - Angel Fire ArtsFest
July 19-21 - Las Fiestas de Taos

See More Events >>