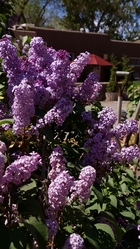 Come and Celebrate Spring in Taos

With Winter now behind us, Spring can take over. The flowers, longer days and not so many layers, there are no excuses not to enjoy our great outdoors. However, if the outside changes its' mood go inside to explore galleries, museums or taste a fine New Mexican spirit. It is a great lilac season and were beautiful for Mother's Day. This weekend is the Lilac Festival, come and enjoy this pretty little flower.
It's never to late to
plan a visit for recreation or relaxation.
We have great Spring rate offerings from now through late May and breakfast is always included with your stay. For details regarding rates, "to dos" and additional information click
Spring Rate Offerings
or call us at (575) 758-7199.
FYI -- here are a few upcoming Events:
Taos Lilac Festival
Taos -- May 18th - 20th
48th Annual Arts & Craft Fair
Taos, Kit Carson Park -- May 18th - 20th
Cumbres Toltec Railroad
Chama, NM & Antonito, CO -- Opening Day May 26th
Music on the Mothership
Taos Mesa Brewing -- June 1 - 3
San Antonio Feast Day
Taos Pueblo -- June 13th
Lodge with us and we can be your vacation concierge. We can suggest dinning options, area hikes, cultural experiences or Taos exploration tailored to fit your interest. Spend a day walking the Taos Blue Line, created by your Innkeeper, Robert, to discover Taos' historic district, art galleries, dinning and shops. Winter days, when not outdoors, are a great time to enjoy Taos' galleries, museums and New Mexican cuisine.
To reserve your getaway today call or click
check availability
to reveal information about our rooms and great rates.